Iant - institute of advance network technology - Vadodara
Monday, 17 January 2011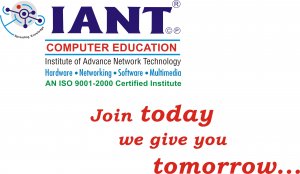 Contacts

Punita Shah

09328246918
Item description
Live Project Based Industrial Training - Ahemdabad
Hi

Greetings from IANT !

At the very outset we would like to introduce ourselves as the Pioneers in the field of Information Technology. IANT is the most trusted name in education segment of IT. It is the Number one IT Solutions Company in the world. IANT is a very trusted name in the field of IT Education as well; with more than 65+ learning canters all across the India, IANT COMPUTER EDUCATION has etched its name in the World's top IT training companies. For past 12+years IANT has been delivering quality training programs to Industries across the Globe. Our competency is clearly visible with the fact that we are the World's largest training provider on technologies like UNIX, VMware, ITIL etc. For more information you can visit our website at ( www.iantindia.com )

This is a proven fact that Corporate in India are in dire need of skilled employees but the courses being followed currently as a part of University curriculum is not getting updated the way technology is. Hence we are now facing a huge gap between the Industry requirement & University output. IANT India has taken this initiative to bridge this gap by introducing Industry Standard Technology trainings in colleges across India.

Eligibility : Students undergoing MCA/B.TECH/MSC-IT/BSC- IT/BCA
Training Module : Java, J2EE, .NET 3.5 Framework
Duration : 4 Months
Fees : 12000/- + Tax.
Project Offer : Live Project
Tranining Location : Ahemdabad, Vadodara, v.v. Nagar. - Gujarat

Note : - Enrol for One technology (JAVA or .Net) and avail the opportunity to learn one more (Cisco or Linux) at the same cost.

WE ARE MOCROSOFT CERTIFIED PARTNER & RED HAT TRAINING PARTNER.

Salient Feature.
Industry experienced Trainer.
Training content as per the industry requirement.
More exposure on hands on training and LIVE-PROJECTS.
Real time Classes.
Additional Module on Communication & Personality Development
Extensive preparation for Global-Certification. (SCJP, SCWCD, MCTS, MCITP, CCNA, RHCE etc.)
Additional Module on Communication & Personality Development


In case you have any queries regarding the above, please feel free to get in touch with us.


BEST WISHES

IANT - SUBHANPURA,
2ND FLOOR,
PUJJAR COMPLEX,
OPP GOLDEN SILVER APPT,
SUBHANPURA ROAD,
VADODARA,
PH : 0265-3057681/82/84/85.

IANT - WAGHODIYA ROAD,
2ND FLOOR,
MANKI PLAZA,
NR, INDRAPURI ATITHI GRUH,
WAGHODIYA ROAD,
VADODARA.
0265-3252531.